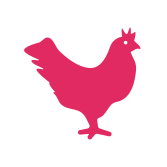 Aplicación de la granja avícola para iPhone
Esta aplicación exclusiva está diseñada para rastrear los huevos, la muerte de las aves, el consumo de alimento y el rendimiento en la avicultura.
Collect daily information about your flocks in seconds. Ideally for poultry farming that raises domesticated birds such as chickens, turkeys, ducks, and geese, for the purpose of eggs for food.